Watch Jenine Saunders
BSc. (Hons.) Physiotherapy Somatic Therapist Sudbury, Canada
Watch Dr. David Ben Kiki
Senior Chiropractor
Watch Jenine Saunders
B-Cure Laser : Somatic Physiotherapy Therapist
Watch Jenine Suanders
B-Cure Laser Back Pain Treatment Demonstration
B-Cure Laser
Osteoarthritis effective treatment with the B-Cure Laser
B-Cure Laser
Mabel is telling how she treated her orthopaedic conditions
B-Cure Laser
Karen treated her pain using the B-Cure Laser Device
Find out how B-Cure Laser
can help you Ease Your Pain
B-Cure Laser is a HOME-USE medical device, most effective for treating chronic pain, orthopaedic conditions, inflammation, sports injuries and wounds.
Low Level Laser Therapy (LLLT) treats the pain and its source, utilising a non-invasive biostimulating treatment.
No known side-effects, with long lasting results, with as little as a few minutes use, twice a day.
Highly cost effective – one device that provides a proven solution, for all ages for the whole family.
B-Cure Laser's efficacy for the treatment of pain and wounds has been proven in 5 double blind clinical trials.
A successful clinical trial* involving 90 patients, has shown that the efficacy of B-Cure Laser was similar to that of pain relief medication.
* Del Vecchio et al., Joint-Related Pain (TMJ), Sapinza University, Rome, Italy.
More than
150,000 devices
SOLD WORLDWIDE
Canada, UK, France, Italy, Germany,
Russia, Finland, Poland, Hungary, Switzerland,
Romania, Hong Kong, Turkey, Vietnam

Based on Facebook reviews
Based on the opinion of 250 people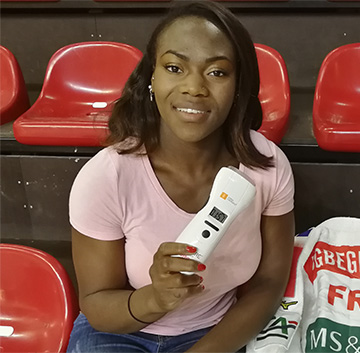 Clarisse Agbegnenou –Women Judo, World Champion (2014, 2017, 2018, 2019)

"I can definitely say it was one of the best decisions I've made in my life. I used the device two-three times a day and within a few days the pain decreased significantly. From not being able to move my arm, I quickly managed to make movements and return to training. B-Cure Laser helped me return to routine faster than the "usual recovery" applying my standard care treatments. surprising even my doctors. I started training again very quickly."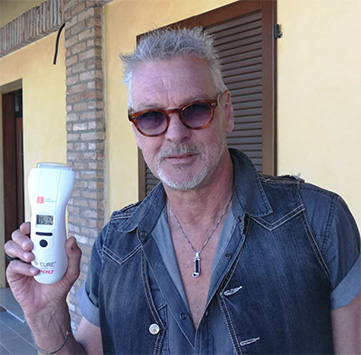 Tacconi Stefano – Football, Former Juventus Goalkeeper (1983-1992)

"A few months ago I heard about a device called B-Cure Laser Sport… What convinced me the most was that the device was tested here in Italy and proved to be effective in a clinical trial. No side effects, short treatment time, and I could treat myself anywhere, at any time, at home and even while traveling. <br>I began to treat myself with B-Cure Laser Sport and used it for the pains I had on both my legs and back. After several days of treatments at home I began to feel better – the pain decreased significantly and my mobility distinctly improved. I'm thrilled to recommend it to everyone…"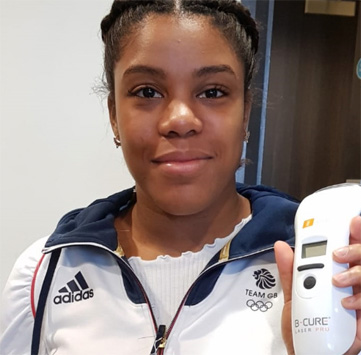 Nekoda Davis – Double World Medalist (2017, 2018)

"This device is amazing, helps me with my pain instantly. It is so quick and easy to use! Approved by my surgeon and physio so I have no worries. I hope to recover quicker due to this device. A massive thank you to B-Cure Laser for trusting me with your devices to try out. (They came all the way from Israel and personally handed to me) Also a big thank you to Yarden Gerbi who introduced me to the wonders of this device and the lovely people from the company."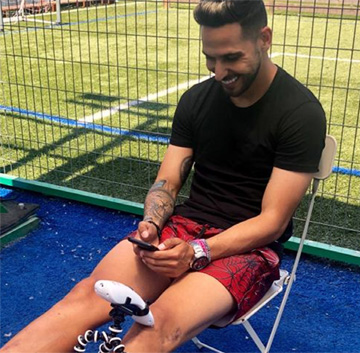 Almog Buzaglo – Football, Hapoel Haifa (2018)

"Nine months ago I was diagnosed with two ruptured ligaments in the knee… I started physiotherapy, drugs and exercises. I started to feel a bit better, but still not good enough… Two months ago at the Wingate clinic, the physiotherapist recommended B-Cure laser to me. She said that from her experience with other athletes, it could help my recovery. I started to treat with this device at home and within a few days began to feel a significant improvement and today I returned to my team and started playing again. I cannot describe in words the feeling that my knees no longer hurt…"