Why B-Cure Laser is recommended by customers and doctors?
If you suffer from pains like joint pains, carpal tunnel syndrome, plantar fascial, or even arthritis, you will know the frustrations of seeing doctors, specialists, physiotherapy, and taking different pain medications often with little success in resolving the underlying pain issues. Not to forget, the long effects of taking pain medications. Now you can take control with a B-Cure Laser; a non-invasive medical device that provides pain relief reduces inflammation and promotes natural healing with no side effects. B-Cure Laser is approved by Singapore's Health Sciences Authority (HSA). What's more, B-Cure works to treat the source of the problem
Helen, aged 50, "I have Osteoarthritis in my knees. Instead of the conventional medication which the doctor prescribe me, I was introduced to B-Cure Laser. I was initially skeptical but to my surprise after using it twice a day for 4 weeks, the pain had drastically reduced. I could now walk more comfortably. I will continue to use this product and would recommend anyone who wants an alternative to pain relievers or anti-inflammatory medicine."
B-Cure uses a technology called Low-Level Laser Therapy (LLLT) or soft laser. Doctors have been using LLLT for over 40 years, but this technology was not available to us (regular folks!) to use in the comfort of our own homes, until today. This revolutionary technology that powers B-Cure Laser is light energy that penetrates our skin into the tissues to stimulate the natural healing mechanisms and speeds up the body's healing process. At the same time, it increases the level of endorphins that act on the opiate receptors in our brains to help reduce pain and boost our mood, giving us a feeling of well-being.
Unlike other pain management devices that only stimulate the surface of the skin or muscles beneath the skin that usually provides temporary relief, the soft laser can relieve pain and actually treat the source of the problem. B-Cure Laser has given us the power to carry around this amazing technology in a small, easy-to-use, portable device so we never have to 'live with the pain' again.
For more information and a limited-time promotion price, call us at 91830188 or leave us your contact details below and we'll get back to you soon >>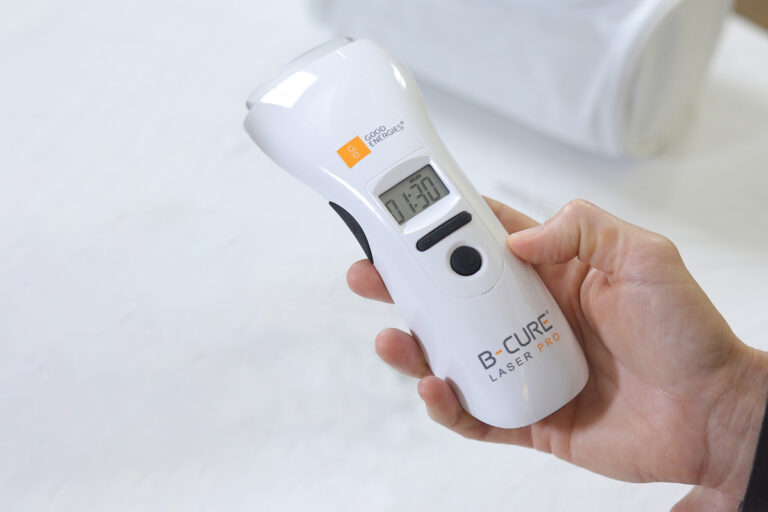 Here's what our other customers like Helen have to say.
Oscar, 49 years old "I am pleased that the B-Cure soft laser device seems to have a positive effect on treating my sports injuries. More importantly, there is the minimal use of anti-inflammation medication (I only had to take medication twice initially when the pain worsened at the beginning of treatment for my left tennis elbow). The effect was quite amazing for this (left knee strain) injury, the pain subsided after about 3-4 days, and I tried running a shorter distance of about 2-3km from day 5, progressively increasing back to 5-7km of running per day. I continued the use of the device for another 2 weeks while training and the pain did not recur."
Richard Koh, 52, "I am a sports enthusiast enjoy many sports such as soccer, tennis, badminton, and jogging. In early 2015, my knee became very painful while playing tennis, especially when I squat. I consulted a GP and he said this is due to wear and tear of the knee joint and is age and activity-related. I took pain killer whenever feeling pain. I also applied the cream on kneecap but all these only relieve the pain for a short period of time.
One of my friends introduced B-Cure Laser to me which he claimed help in his tennis elbow problem.
I started to use the device with 1min dosage, 2 treatments a day in the beginning as I worry the side effect of laser but I don't feel any effect after few days. I increased to 3mins dosage and 3 treatments a day. After using for 2 weeks, I feel my condition improved a lot when climbing up stair case to my office in 4th floor. I gradually increase to 10mins dosage and 4 treatments a day. After using it for about 2 months, I started some light work up and static cycling at home, although I still feel slight pain on my knee (pain level 2/10 ) I think my condition had improved 80%.
This device is so handy that I can bring it to the office for 3 treatments during break and lunchtime. I complete my last treatment of the day at home while watching TV."
June, 68 years old "I've had a foot spur for years no some time and from time to time it will rub against a nerve on the foot causing me a lot of discomforts when I walk. I have tried acupuncture and physiotherapy with mixed results. My doctor told me the only way to get rid of the foot spur was to have surgery which I wasn't keen on.
My son recommended me B-cure and sent me the instructional videos and photos. Upon receiving the unit, I faithfully followed the instructions and did the treatment at least 4 times a day, building up the duration of the treatment as recommended (from 1 minute to 6 minutes per area). It can be a chore to do it but it was worth it. By week 2, I could feel some improvements as there was less pain when I walked. Today, I don't have any more pain and still use B-cure at least once a day."
Marissa Tay "Bought this for my mum to use as she has knee and back pain. It was highly effective! She felt relief after just 2 usages! Highly recommend to everyone who has chronic joint and back pain. The price is also reasonable. Much more worth it than making trips and trips to the physiotherapy that had minimal effects, not to mention the amount spent on each session. With Bcure, at least I can just do the treatment myself in the comfort of my home."
Recommended by doctors

B-Cure Laser has become a favorite of doctors who treat pain. Professor Daniel Reis, from the Technical Institute of Medical School of Haifa and one of the leading orthopedic surgeons in Israel, Dr. David Ben Kiki, a 37-year practicing chiropractor, and Professor Jean Jacque Vatin, have reported that their clinical experience with the device has shown positive results on patients' carpal tunnel syndrome, neck pain, lower back, knees, and other joints.
David Smith, a Podiatrist,  who uses the B-cure laser on patients who suffer from foot & leg pain has also seen positive outcomes of pain relief and also appreciates its ease of use.  Dr. Bronwen Hanley, Chiropractor, and Acupuncturist commend the B-cure laser as an excellent solution for patients who are suffering from acute pain and swelling where physical manipulation is not an option.
Look no further for a non-invasive, no side effects solution to your pain. Stop living with the pain, start living your life.
Are you also tired of the suffering pain for every step you take? Try the B-Cure Laser and see for yourself!
call us at 91830188 or leave us your contact details below and we'll get back to you soon >>
Content marketing: This information does not constitute medical advice and it should not be relied upon as such. Consult with your doctor before modifying your regular medical regime.